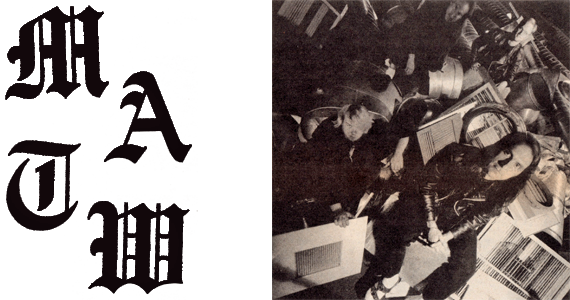 by Steven L. Roth

David Byrne of the Talking Heads once penned, "I've changed my hair style so many times now, I don't know what I look like." Some may argue that Mad at the World is on the road to face the same dilemma musically as their sound has gone from techno (Mad at the World, Flowers in the Rain) to alternative (Seasons of Love) to near-metal (their latest release, Boomerang). Regardless of what your opinion may be, Roger Rose, center of said band, retains a firm perspective on what he's doing and where he's going.

My Stupid Message
Most of you probably realize that Roger Rose is the leadman for Christian rock's ever-evolving music entity, Mad at the World. And some of you are probably aware that during the day, Mr. Rose dons gray, knee-length shorts, pulls his hair back into a pony-tail and takes to the streets as a U.S. Postal Carrier (however, any attempts at humor by drawing comparisons with Cliff Clavin are futile, since Rose has never seen even one episode of "Cheers"). What you probably don't know is that Roger Rose has the coolest message on his answering machine. After a couple failed attempts to make contact via Frontline Records, I managed to hook up with his answering machine.

"The following is not rap music," a voice informs you, which is then immediately proceeded by an electronic drone of fast-pulsed synth which sounds like it should be the introduction to the evening news. "Thanks for calling me; I'm not home," the singer begins, "So leave your stupid message on the phone. And when I get home I will listen to it. And call you back as soon as I can do it." (Begin crashing percussion now.) "Weeeell, bye mama. Y'know what I'm saying, know what I'm talking about and all that stuff? I gotta go!" (Beeeep.)

Uh, hello. This is Steve for Notebored concerning our interview. I'll try back later this evening. (Silence.) Bye.

Myth of the Gloomy Songwriter
With answers-don't-come-easy lyrics, sorrowful and passionate vocals, stigmatized by certain industry and media people as being unapproachable, and with every photo I had ever seen looking as if they're, well, mad at the world, I prepared myself for the journalistic equivalent of pulling teeth.

Roger Rose did not meet my expectations. Not only did I have to cut him off several times to get through my list of questions, he spent a good deal of time laughing along with the responses. "I am one of those people that is real shy until you get to know me. Then after that I'm probably too loud and obnoxious. But people aren't going to know that, so it's my responsibility to force myself not to be so shy, and I'm trying to do that."

Okay, but what about those other rumors? "MATW has always been a little bit of a weird band. I mean, let's face it. We were people from Southern California singing with a mock English accent, doing music that wasn't heard of in the Christian market. And a lot of the people who pay the bills and take orders for albums just didn't understand the music and didn't want to understand the music, and I can see where they'd think like that."

Boomerang: From Depeche Mode to Judas Priest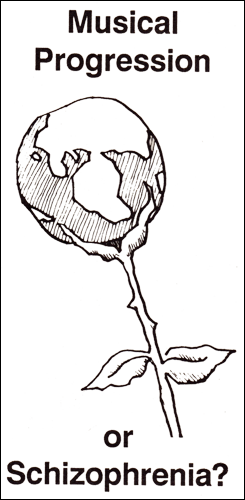 If you haven't heard MATW in quite some time, brace yourself. Even if you did hear their last album, Seasons of Love, you should be prepared for further metamorphose as found in their latest release, Boomerang. Based on Galatians 6:7-8 (look it up), Boomerang is a stripped down, basic, two guitars, electric bass and a drum set albums with the keyboards only appearing on one cut. It's quite a departure from their earlier material, which was chock full of techno synth and sequencer gizmos. It earned MATW the unofficial "Christian Depeche Mode" title. A lot can change in five years.

"The only reason I switched over to this type of music was because we could have fun playing it live," explains Rose. "We would fall on our faces show after show trying to do the keyboard set-up live."

Understandable, but to go from synth-oriented to synth-extinct (nearly) heavy metal in such a relatively short period? "As a songwriter, my influences are obviously the sum total of every song I've ever liked or been inspired by. Like, for this new album, some of the stuff I was listening to was Seventies rock."

Yeah, but still. . . "I'm not musically prejudice. I can like a good song no matter what style it is. There's so much musical prejudice out there. If someone is into metal, anything that isn't metal is garbage, period, whether it is a good song or not. The same is true for dance music or whatever. I'm not like that."

Okay, but it's still a big jump. "When I was younger, I was kind of into heavy metal and then got out of heavy metal. When I was 15 or 16, my album collection consisted of secular music like Judas Priest and all that garbage. I owned their first two albums but then kind of got out of it. So Boomerang is sort of like me returning to some of the music I used to be into."

Ah ha! So you are a metal band now. "The difference between what we do and just a metal band is in the song writing," Rose explains. "I try to keep the chord changes and melodies more melodic."

Younger brother Randy Rose, who plays drums in the band and has been a part of the group from the beginning, apparently has been dipping into his big brother's album collection. With two of the songs to his credit on Boomerang, Randy sounds like a serious contender for a Jim Morrison/Alice Cooper sound-alike. "He would rather have us play all hard rock," chuckles Roger, who is 11 years older than his sibling and counts him as one of his very best friends. "As a matter of fact, there'll probably be a solo album from Randy out sometime soon. He's a great songwriter and an excellent singer; he really deserves his own record."

Isn't Sex a Wonderful Thing
MATW has always tried to approach issues and questions honestly and openly, even at the risk of being misunderstood or challenging some of the Evangelical taboos as far as what you can or cannot talk about. "There's definitely some Christian music that talks about only 'safe' topics and use Christian cliches that they know will make people happy," states Rose.

"Isn't Sex a Wonderful Thing," one of the songs off the new album, goes a step further than what they've done in the past. "A lot of debate went into whether we should even put that song on this album," admits Rose. "There's concern that people will just hear the hook line (the title) over and over again and think the song is promoting sexual wildness or whatnot." But this 31-year-old mailman seems prepared with a response should anyone ask.

"The title is actually a question. Basically the song is trying to force the listener to answer that question. I believe the answer really depends on whether we're living our lives by God's rules or by ignoring them. I think God's rules for sex, even if we don't understand them or they go against our fleshy nature, is purity before and fidelity after marriage. Under those rules, sex is a wonderful thing. Outside of them, it isn't. It brings confusion, breaks up marriages, it causes fathers to molest their daughters. It has a lot of bad effects in exchange for temporary pleasure."

This type of confrontational writing seems to come easy for Rose. "I'm not afraid to talk about tough issues and tough questions," he admits. "I'm comfortable with that because for everything I don't have an answer for, I don't let that ultimately get me down. The ultimate answer is that God is a loving God."

Rose concedes, "There's a lot of evidence in life to suggest that God isn't a loving God if you choose to believe that. For all the questions I don't have answers for -- why God would let my mother get cancer when she's the most devoted Christian I've ever known, or why babies are born deformed, or all these kind of things -- if I would say, 'Yeah, I don't understand this, therefore God isn't a loving God,' I'm just ripping myself off from the only hope that I have. And the only hope I have is to believe that God is a loving God. I choose to believe that even though my mind doesn't totally understand it. In my opinion, that's what faith is."

Magic Bus
So what does this civil servant gone head banger think the future holds for Mad at the World? With tongue placed firmly in cheek, Rose responds, "I think we'll sell a lot more albums now that I've sold out and changed to metal." He then erupts into laughter, causing me to wince at the added volume emitting from the phone. "Let's put it this way," he continues, "I need my mailman job."

In a more serious tone, Rose uses an interesting metaphor to give his feelings on the subject. "I think of it like I'm on a bus and God is the bus driver. If he lets me off at the next corner, I'm more than happy to step off and say I had fun doing what I did. Or if God wants to take me on a long ride for the next ten years, I'm content to do that, too."

Rose also insists he has no desire to become a secular crossover rock star. "I think it would turn a life that I enjoy into work and a hassle and a nightmare; it's almost too much for the human ego to handle, too much stress. There's even more important things to life than selling a million records to me."

Not bad, even for a guy who's never even seen "Cheers."